Submitted by Chris Page on
The Green Building Council of Australia has awarded the Caloundra South Master Plan with a 6 star green star rating for social and economic sustainability and environmental performance. The master plan illustrates an environmentally positive outcome for the site that is almost entirely cleared of vegetation from past uses with approximatly 1/3 (700ha) of the site being revegetated and dedicated for conservation purporses.  The Caloundra South Master Plan demonstrates that it is possible to undertake a development of unprecedented scale and achieve world class environmental and social outcomes.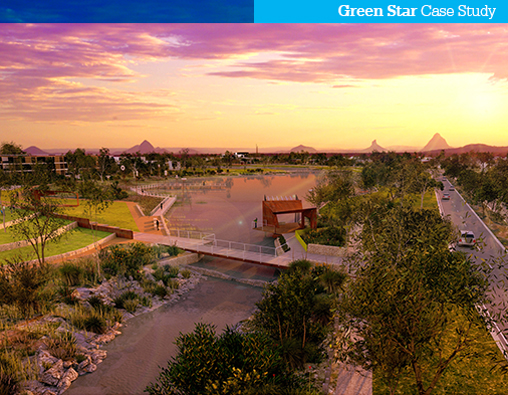 (Image and article courtesy of the Green Building Council Australia: 2nd April 2015)
'Sustainable communities respect, protect and restore the environmental systems that support them. They are resource-efficient and tread lightly on the planet. At Caloundra South, more than 700 hectares, nearly one-third of the site, will be rehabilitated from decades of use as a former pine plantation and designated as a conservation area.
New habitats for rare and endangered flora and fauna species will be created with fauna underpasses at every major creek crossing. Caloundra South will feature the most advanced water reticulation, filtration, storage and treatment system ever installed in any Australian community.  This will recycle water, minimise run-off and ensure the protection of the nearby Pumicestone Passage. Annual environmental reporting will assess the development of Caloundra South against stringent water quality and biodiversity measures'. Read More.....